Inauvate Work Solutions
June 30, 2014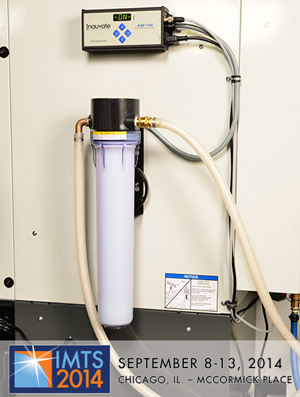 The ASF 100 ultraviolet light sterilization and filtration system will be introduced at IMTS 2014. Visit Inauvate Work Solutions at Booth W-1952.
Marlborough, MA - Inauvate Work Solutions will be launching the ASF 100 at IMTS 2014. The ASF 100 is an ultraviolet (UV) light sterilization and filtration system designed to eliminate "Monday morning stink" by controlling the spread of bacteria, mold, and fungi that cause machine tool coolant to spoil. This prolongs aqueous fluid life leading to fewer change outs per year, reduced machine downtime, and lower disposal costs.
Inauvate has designed the ASF 100 specifically for the manufacturing industry and it can be easily integrated into most CNC machine tools and aqueous parts washers. The ASF 100 is chemical free and has green benefits that include reduced waste, minimal energy costs, and a cleaner/ healthier work environment. Sumps are available in 10" size for compact installations or 20" size for maximum light exposure and effectiveness.
Inauvate at IMTS 2014: Visit booth W-1952 in the West Hall at McCormick Place for a demonstration of the ASF 100. IMTS 2014 will be held September 8-13 in Chicago, Illinois.
Inauvate Work Solutions offers tools for manufacturers that reduce costs and increase productivity, and contribute to a better environment. A brainchild of Ruland Manufacturing Co., Inc., Inauvate was founded to share products developed to improve operations on the Ruland factory floor. Ruland Manufacturing Co., Inc. was established in 1937 as a manufacturer of precision components. Ruland's focus for the past 40 years has been on high performing shaft collars and couplings. All Ruland products are carefully manufactured in Ruland's factory in Marlborough, Massachusetts, USA, under strict controls using proprietary processes. The complete product line includes shaft collars and rigid couplings, and a full assortment of motion control couplings: beam couplings, bellows couplings, oldham couplings, miniature disc couplings and zero backlash jaw couplings.
Contact:
Ruland Manufacturing Co., Inc.
E-Mail: sales@inauvate.com

PR Contact:
TPR International
Internet: www.tradepressrelations.com